Sizing Instructions
[Click
HERE
for more details.] Getting the right size in your clothing is what makes it more functional and enjoyable to use. Too tight and it binds. Too loose and it can interfere with your shot. The charts below are usually perfect for unlined garments. For lined items its best to give us accurate measurements and explain what layers will be worn underneath, how you like to wear your clothes, and for what types of situations you are looking to use them in, and we can help determine what sizes will fit you best. A general rule of thumb is go up one half to one full size for comformax lined garments. And 1 full size or more for comformax/liteloft lined.
NOTE* The charts below only shows even sizes. We do offer sizes that fall in the middle of these which we call + (Plus) sizes.
Pants or Bibs
All measurements are in inches. All pants have side waist adjustment tabs that allow for a 4" reduction in the waist measurement i.e. a Large with a 38" waist will adjust down to a 34" waist. Ultimately it depends on what you'll be wearing or tucking in to the Pants for the waist to fit good. If for instance you have a 36" waist best bet is to go to the 38" waist, which is a stock Large, and adjust down the waist adjustment tabs to the proper fit. They are full cut to allow for layers underneath, but remember that the layers you put on come up into the waist area, will take up some space and may make the waist tight.

| SIZE | WAIST |
| --- | --- |
| SMALL | 26 - 30 |
| MEDIUM | 30 - 34 |
| LARGE | 34 - 38 |
| X LARGE | 38 - 42 |
| XX LARGE | 42 - 46 |
| XXX LARGE | 46 - 50 |
Jacket or Pullover
Chest sizes allow for room for layering but the chest in Gray Wolf Jackets and Pullovers is not as generous as most manufacturers to address the concern of loose fabric in the area of the bowstring when you draw back. Custom sleeve lengths available.

This is a view looking down on top of you. Measure from your spine just down from where your neck goes into your shoulders (the center point of your back between your shoulders), around the back of your shoulder, across the back of your arm, elbow and forearm, to your wrist bone. The distance you measure is like measuring an "L". You want the longest measurement you can get and this will be the correct one.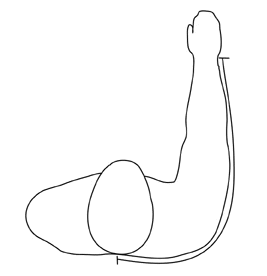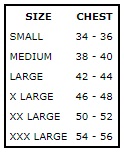 The charts work well for Northwoods items. For custom made (Outfitters Line) garments it is best to fill out the input boxes on the individual product pages, and we'll help you select the proper size. Generally when ordering lined garments we suggest going up 1 to 1 1/2 sizes.
How to Take Measurements for Correct Sizing
Use a flexible sewing tape for measurements if possible, or substitute by measuring with a non-stretch rope and then measure accordingly. Please measure your actual waist and inseam, as well as giving us your jean size.
It is best to take measurements over lightweight clothing or undergarments.
Measure:
Waist - around waist where waistband would ride.
Inseam - from the crotch to floor.
Chest - under the arm pits with chest expanded.
Abdomen - around the largest part of belly.
Shoulder - around the shoulders, above biceps.
Thigh - around the largest part of the thigh.
Sleeve - from center of back, around shoulder, to wrist bone (keeping arm straight in front of you and horizontal to the ground). You will be measuring an "L".